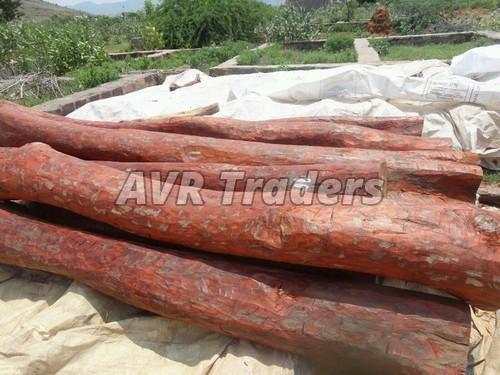 Red sandalwood or Pterocarpus santalinus is commonly found in the southern Eastern Ghats Mountain range of South India. This tree is highly valued for the rich color of its wood. The wood is not aromatic as aromatic Santalum sandalwood. Red sandalwood tree takes a lot more years to grown-up than white sandalwood. Therefore, the supply of red sandalwood logs is much less than white sandalwood logs. However, both sandalwood possesses similar medicinal properties and is used in various medicines.

Red sandalwood logs are reddish-brown in color and sometimes found with colored streaks. The wood logs have freshly sawn surfaces that can have a lighter olive hue. The wood's grain is often interlocked, with a uniform, medium-coarse texture. These logs have a moderate natural luster.

The Red sandalwood has historically been valued in China, particularly during the Qing Dynasty periods. Due to its slow growth and rarity, furniture made from Red Sandalwood is difficult to find and can be expensive in China. In India, Red sandalwood is one main and lucrative market for smugglers, as a high price is paid for Red Sandalwood logs in China. Since the exporting of sandalwood is illegal in the country, the underground market is growing and there are a number of arrests every year of those who are trying to smuggle this Sandalwood to China. There is also a huge demand for Red sandalwood in Japan, Myanmar and other countries in East Asia.

Uses of Red Sandalwood:

1. On the business side, Red sandalwood log is a good raw material for music instruments and luxury furniture. The logs are highly used for heavy construction especially exterior applications, flooring, decking, docks, boatbuilding, shipbuilding and other applications where the strength and rot resistance features of the logs can be utilized. Red sandalwood has also been used for making bridges and been used to reduce the radiation of Nuclear reactors.

2. This deep earthy colored sandalwood has amazing properties and is used in traditional herbal medicines as an antipyretic, anti-inflammatory, anthelmintic, hemorrhage, dysentery, aphrodisiac, anti-hyperglycemic and diaphoretic for treating minor ailments. According to the Institute of Wood Science & Technology, this sandalwood gives cooling effect when applied externally for inflammations head-ache, bilious affections and skin diseases and skin diseases improve treating headache, fever, boils, scorpion sting and to improve sight. Red sandalwood is also popular in the cosmetic industry for treating skin issues like the pigmentation of the skin and acne. Here are some useful benefits of red sandalwood-

• Red sandalwood for acne: Red sandalwood is often used in the treatment of skin disorders such as acne. There are several ways in which one can use red sandalwood to treat acne problems which include an external application as well as oral intake of the product.

• Red sandalwood for skin pigmentation: Red sandalwood extract is extensively used in the cosmetic industry to lighten or reduce pigmentation marks or scars on the skin. One can easily make face packs made from Red Sandalwood at home which are as effective as the products available in the market for pigmentation.

• Red sandalwood for eczema: Eczema is a type of skin disorder in which the patient suffers from skin inflammation. Eczema can be managed using herbal remedies. To get relief from itchiness and inflammation caused by eczema, red sandalwood powder or other Red sandalwood product is used. Red sandalwood provides instant relief from burning and itchy skin.

• Red sandalwood for burns: Red sandalwood has cooling properties and is used to provide relief in cases of burnt skin. An ointment containing sandalwood powder can be applied on the affected area for relief.

• Red sandalwood as an antiseptic: Red sandalwood is loaded with antiseptic and healing properties and has been used as an antiseptic in traditional Ayurvedic medicine. To use it as an antiseptic, one can also sprinkle red sandalwood powder on damaged skin.

Due to all the above uses and benefits, Red sandalwood logs are highly demanded in the market. Red sandalwood logs suppliers in India are engaged in supplying sandalwood logs of superior quality at a quite reasonable rate. One can also rely on one of the top Red sandalwood logs suppliers in Karnataka to meet the bulk and urgent requirements.